Hi
I came across this
Crazy Cooking Challenge
by
Tina Hudgens
.It is amazing that over 100 bloggers take part in this monthly challenge.The theme for this week is Chocochip cookies. The blogosphere will be flooded with chocochip recipes today at the same time too:-)
I chose to bake chocochip cookies from
Edible Garden by Nags
This is my first entry for the crazy cooking chocochip cookie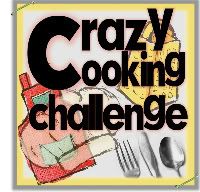 INGREDIENTS
All purpose flour 2 cup+4tbsps
Brown sugar 1 cup
White sugar 1/2 cup
Butter 1 cup
Baking soda 3/4 tsp
Salt 1/4 tsp
Flaxseed powder 2 tbsp
Vanilla essence 1 tsp
Chocochips 1 cup
Choco chunks 1/4 cup
PROCEDURE
Preheat the oven at 180C
Grease the baking trays well.
Mix the flour, soda and salt together and keep it aside
Beat butter and sugar till creamy and fluffy with a beater(nearly for 7-9 MINS)
Add the flaxseed powder and vanilla to this and beat till it mixes well.
Now fold in the flour,soda and salt mixture.
Finally add the chocochip and choco chunks. Mix well
Take small portions, shape into balls, flatten it and place it on the tray apart from each other.
Bake for 12-15 minutes till the sides starts to brown
Cool and store them in air tight containers........if there are any left overs...LOL:-)
VERDICT
My daughter's first reaction was "MOM!!!!!THIS IS THE BEST CHOCO CHIP COOKIE I HAVE EVER HAD!!!!YOU ARE THE BEST COOK MOM!!!!!"
Thank you Nags!!!!!! This is an awesome recipe!!!!
Thank you Tina for hosting this:-)